SPITFIRE FORMULA 4 CLASSIC 101a - (Set of 4)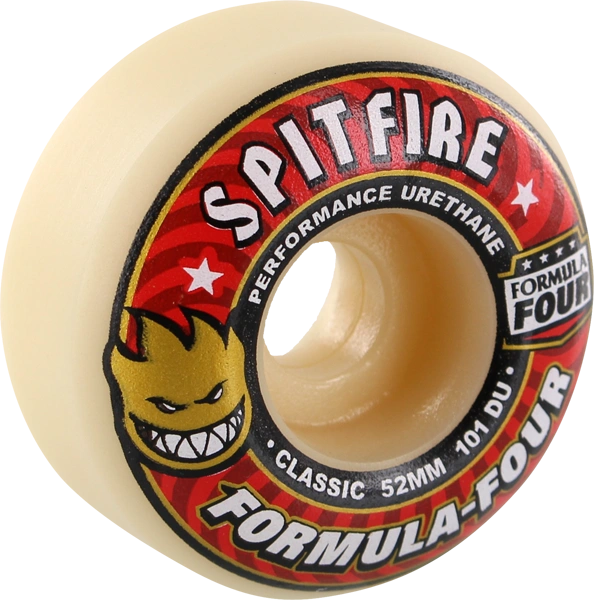 SPITFIRE FORMULA 4 CLASSIC 101a - (Set of 4)
FORMULA FOUR wheels are MADE IN THE USA!
Formula Four Urethane is made using a 100% pure urethane compound.
Tested by Spitfire Team riders in the streets, Formula Four Performance Urethane lasted longer, withstood more abuse and performed superior to all other wheels.

Formula Four's True lasting Performance Urethane comes not from a single benefit, but from a combination of qualities and features that together produce a truly great wheel.
Formula Four Performance Urethane is unlike any other. Both in the streets and under high-speed stress tests in our lab, Formula Four Wheels retained more material, coned less and kept their original shapes and sizes longer than any other wheel.

On the hills, in the streets & parks, and in forced flat spot testing in our lab, Formula Four wheels out-performed and resisted flat spots longer with less wear than all other wheels.
Formula Four's exclusive combination of High Rebound and Hard Duro produces a faster wheel everywhere. Higher rebound for faster speeds over rough and smooth surfaces. Hard Duro for a harder, faster ride that won't mush out over time.

Formula Four's exclusive anti-stick slide gives a fast/consistent, smooth slide all the way through. Slide with confidence start to finish knowing your wheels won't skip or catch mid-slide. Formula Four gives you the highest level of control and consistent grip you can count on!