TRACKER FASTRACK POLISHED (Set of 2)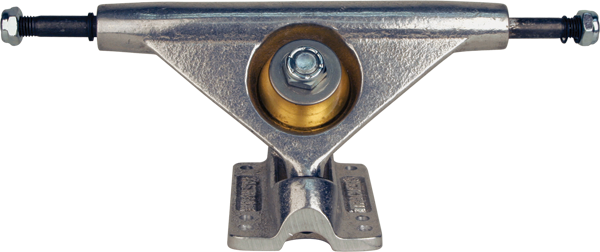 TRACKER FASTRACK POLISHED (Set of 2)
The Tracker Fastrack is one of the most stable inverted trucks ever casted. Featuring high rebound, oversized upper and lower bushing, with an additional standard seat allowing standard bushings to be used. The Hangers are engineered to "flip" creating more caster and trail, again increasing the rider's fine-tuning ability and options.
When the Hanger is flipped, it changes the roll centers for higher speeds. It slows down the reaction giving less chance of speed wobbles. The lower axle doesn't change the geometry of the truck it just repositions the axle.
The Fastrack baseplate has internal webbing for strength that allows for a strong and easy drop through deck mounting option and feature a 6 hole mounting system to accommodate both new school and old school hole patterns.Tracker uses 356 T6 aircraft grade aluminum, 4140 Chromoly steel axles and grade 8 kingpins in all of our trucks. Every part of this truck was proudly hand built / inspected in the U.S.A and comes with a lifetime guarantee.